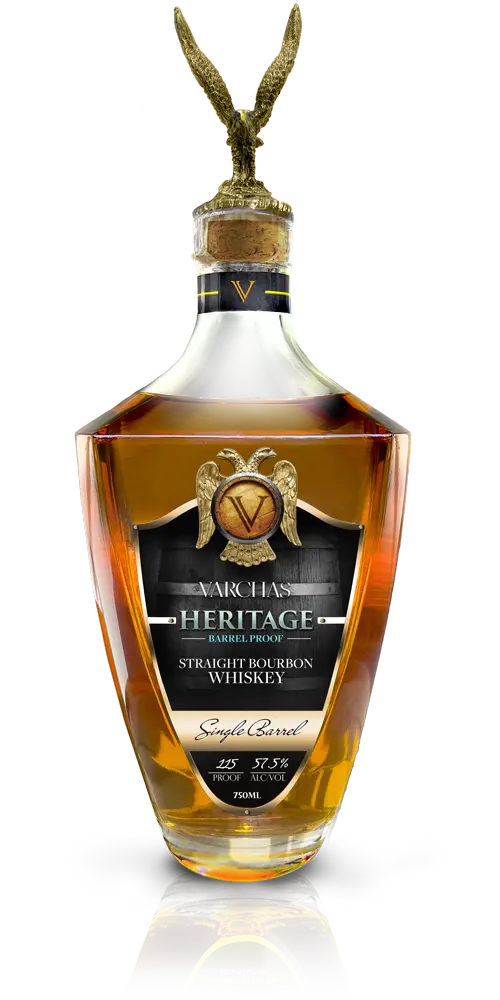 VARCHAS HERITAGE BARREL PROOF | STRAIGHT BOURBON WHISKEY
Discover the rich heritage and timeless taste of Varchas Heritage Straight Bourbon Whiskey. Crafted from a traditional mash bill using more corn than our initial bourbon, but still a high amount of rye, this extraordinary bourbon embodies the essence of classic American whiskey-making. A Time-Honored Mash Bill Varchas Heritage pays homage to the time-honored bourbon tradition with its carefully crafted mash bill. The blend of using more corn infuses this whiskey with a warm, sweet foundation that's synonymous with the best bourbons. The high rye content adds a welcomed complexity, offering subtle spice notes and a harmonious balance. Aged to Perfection One of the key secrets to the exceptional character of Varchas Heritage Straight Bourbon Whiskey is its patient aging process. The whiskey is meticulously placed in charred oak barrels, where it undergoes years of maturation. This aging process allows the bourbon to absorb the rich flavors and aromatic qualities of the oak, resulting in a smooth, well-balanced, and full-bodied spirit. Varchas Heritage Straight Bourbon Whiskey is more than a drink; it's a journey into the heart of bourbon heritage. With every sip, you're transported to a time when craftsmanship and attention to detail defined the art of whiskey-making. Whether you prefer it neat, on the rocks, or as the foundation for your favorite bourbon cocktails, Varchas Heritage Straight Bourbon Whiskey is a testament to the enduring allure of traditional bourbon flavors. It's a true classic that belongs in the collection of every whiskey enthusiast. Raise your glass to tradition and innovation, and savor the timeless taste of Varchas Heritage Straight Bourbon Whiskey. This expressions will be available in limited quantities only through Shankar Distillery.
* This Product is available for Pick-Up at the Distillery

Kosher Certified by the Kashruth Division of the Orthodox Union

Shankar Distillers LLC
1030 Chicago Rd
Troy, MI. 48083
Email: customercare@shankardistillers.com
Phone: 855-827-2427
We want to hear from you!